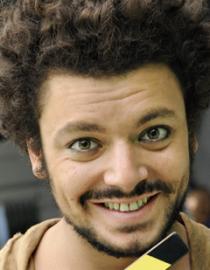 Kevin Smadja, dit Kev Adams, né le 1er juillet 1991 à Paris, est un humoriste, acteur et producteur français.
Sa carrière cinématographique décolle en 2013 avec son rôle de Boulard dans Les Profs. Le film connait un large succès commercial, qui aura connu une suite.
En 2014, il joue dans la comédie Fiston, de Pascal Bourdiaux, dont il partage l'affiche avec un autre comédien révélé par une émission de Laurent Ruquier, Franck Dubosc.
L'année 2015 marque un tournant : alors qu'il fait ses adieux à Soda à la télévision, avec un téléfilm de conclusion, Le Rêve Américain, il mène les deux plus gros succès commerciaux du cinéma français en 2015 : d'abord en reprenant le rôle du lycéen Boulard pour The Profs 2, alors qu'il est désormais âgé de 24 ans. Puis en jouant le rôle-titre de la comédie d'aventures Les Nouvelles Aventures d'Aladin du réalisateur Arthur Benzaquen.
En 2016, il passe à un registre plus dramatique : d'abord en février, avec la sortie de la chronique Amis publics, d'Edouard Pluvieux, puis en donnant la réplique à Patrick Bruel, Elsa Zylberstein, mais également Christian Clavier qui avait manqué The Profs 2, dans Un sac de billes. Il enregistra une voix dans le film de Pixar : Le Monde de Dory, en juin de la même année.
Involvement in films